The Lightning Thief: The Percy Jackson Musical
3S Artspace, Portsmouth, NH, 03801
Saturday, May, 7th, 2022
7:00 - 9:00 PM
https://www.eventbrite.com/e/the-lightning-thief-the-percy-jackson-musical-tickets-266291102857
Event description
Now on sale!

RGC Theatre and 3S Artspace present
THE LIGHTNING THIEF
THE PERCY JACKSON MUSICAL
Book by
Joe Tracz
Music & Lyrics by
Rob Rokicki
Adapted from the book, The Lightning Thief by Rick Riordan
Saturday, May 7
Doors 6pm / Show 7pm
All ages / Seated
Pay-what-you-choose (starting at $25)
—-
"The Lightning Thief is a blast — and that's no myth." – Boston Globe
"Completely innovative and inspiring!" – Front Row Center
"Worthy of the gods!" – TimeOut New York
"One foot in Harry Potter and another in Dear Evan Hansen." – Chicago Tribune
—-
Synopsis:
As the half-blood son of a Greek god, Percy Jackson has newly-discovered powers he can't control, a destiny he doesn't want, and a mythology textbook's worth of monsters on his trail. When Zeus's master lightning bolt is stolen and Percy becomes the prime suspect, he has to find and return the bolt to prove his innocence and prevent a war between the gods. But to succeed on his quest, Percy will have to do more than catch the thief. He must travel to the Underworld and back, solve the riddle of the Oracle, and come to terms with the father who abandoned him.
Adapted from the best-selling book The Lightning Thief by Rick Riordan and featuring a thrilling original rock score, The Lightning Thief: The Percy Jackson Musical is an action-packed mythical adventure "worthy of the gods" (Time Out New York).
—-
Cast / Click here for bios: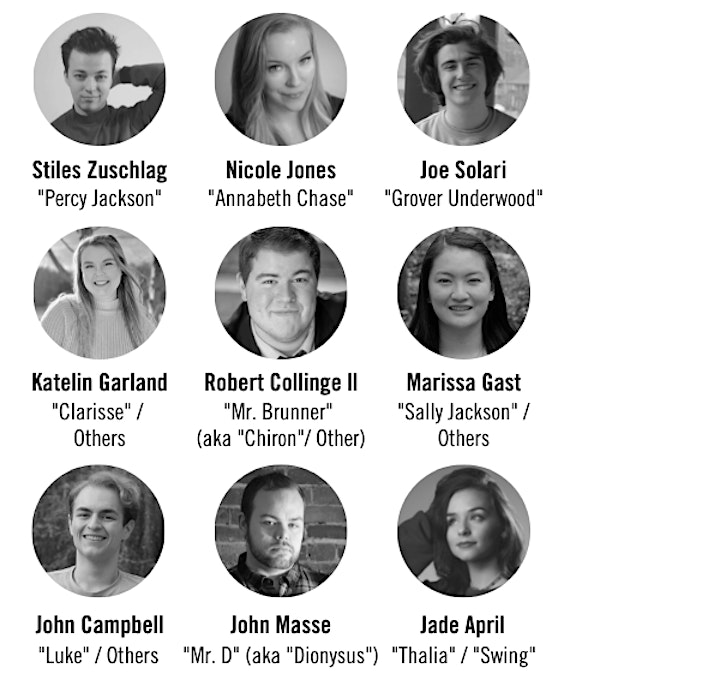 Direction/Choreography – Ro Gavin
Music Direction – Breanne Battey
Stage Management – Sarah Collinge
Assistant Stage Management – Kathryn Daughton
Scenic Design – Meghan Flynn
Costume Design – Olivia Martinson
Lighting Design – Theodore Ragge
Puppetry Design – Ro Gavin
Fight Choreography for "Put You in Your Place" – Jennifer "Jenry" Towle
About RGC Theatre:
After 12 years on stage and behind the scenes for a variety of New England theatre companies, Founder and Executive Director Ro Gavin took their experience and created Ro Gavin Collaborative Theatre as a new outlet for arts in New Hampshire with focus on presenting unconstrained and inclusive theatre. RGC Theatre offers a unique experience for theatre artists by providing an auspicious environment for artists to create with ingenuity. RGC Theatre was officially established in 2021 with the support of Nicole Jones and Andrew Pinard.
—-
Click here to learn about our Health & Safety policies and measures.
Masks are strongly encouraged but not required during your visit to 3S Artspace.
By purchasing a ticket and/or visiting 3S, you are agreeing to follow 3S Artspace's health & safety requirements as they are on the date of your visit (not at the time of purchase). There may be exceptions or changes to our requirements for upcoming events, based on factors such as artist requirements and public health mandates.
Attendee Promise & Health Acknowledgement
All attendees agree to follow 3S Artspace policies and posted instructions during their visit. All attendees should evaluate their risk in determining whether to visit 3S. By entering the building, attendees voluntarily assume all risks related to exposure to COVID-19 and confirm they will adhere to both local and CDC quarantine requirements.
COVID-19 Warning
There is risk of exposure to COVID-19 in public spaces and there is no guarantee those attending an event will not be exposed to COVID-19.
Thank to our year-round Lead Sponsors: Raka and PixelMedia.