Oompa w/ Briezy Jane (Port Lucy: A Hear Her Music Series)
A new quarterly series from 3S Artspace shining a bright light on the voices of women in music. Free ...
3S Artspace, Portsmouth, NH, 03801
Thursday, Jul, 21st, 2022
7:30 - 10:00 PM
https://www.eventbrite.com/e/oompa-w-briezy-jane-port-lucy-a-hear-her-music-series-tickets-321750001917
Event description
A new quarterly series from 3S Artspace shining a bright light on the voices of women in music. Free to attend (registration required).

Port Lucy: A Hear Her Music Series
Music performances by: Oompa and Briezy Jane
Panelists: Jess Page (Rareform), Rachael Pazdan (Rolling Stone)
Thursday, July 21
Social/doors 7pm // Briezy Jane 7:30pm // Panel 8pm // Oompa 9pm
FREE
All ages / Partially seated
***This is now a free event! Reserving your tickets in advance is recommended as this is a limited capacity event. As a non-profit working to build back audiences in the pandemic, we want to make this event as accessible as possible to our community. We really want the community to experience this series and create an audience that returns over and over again!***
Part social event, part concert, and part conversation, let's celebrate and connect women musicians, those in the music industry, and their audiences. Come out with friends for a show and a chance to ask questions, hear stories, advocate for equity, and be part of the conversation about women thriving in all corners of the music industry.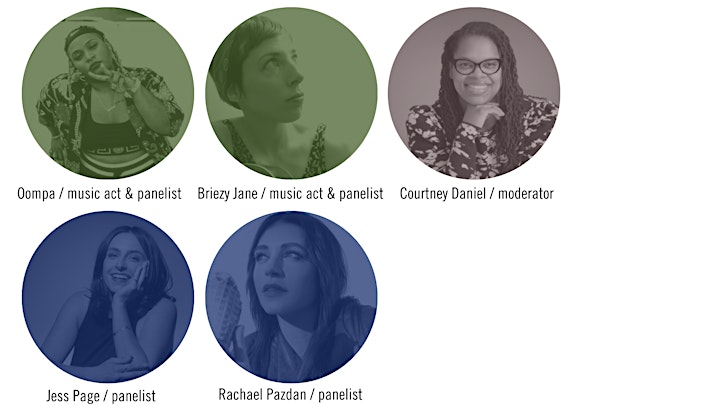 FEATURED MUSIC ACTS (click name for bio):
FEATURED PANELISTS (click name for bio):
Rachael Pazdan – manager of events at Rolling Stone
Jess Page – co-founder of women-owned artist services firm, Rareform
MODERATOR (click name for bio):
About the Port Lucy series presented by 3S Artspace:
Port Lucy provides a new platform to celebrate women musicians in New England by presenting quarterly opportunities to connect, perform, and develop as artists along with audiences and other women in the music industry.
Port Lucy was developed in 2020, stemming from a sense by Portsmouth musician Elissa Margolin and former 3S talent buyer Tristan Law that something was missing for women musicians. Inspired partly by NYC's The Hum, 3S Artspace began developing the series for 2020. Although the pandemic hit pause on the project for a time, we're excited to finally be able to share and grow this series with our community in 2022.
—-
Click here to learn about our Health & Safety policies and measures.
Masks are strongly encouraged but not required during your visit to 3S Artspace.
By purchasing a ticket and/or visiting 3S, you are agreeing to follow 3S Artspace's health & safety requirements as they are on the date of your visit (not at the time of purchase). There may be exceptions or changes to our requirements for upcoming events, based on factors such as artist requirements and public health mandates.
Attendee Promise & Health Acknowledgement
All attendees agree to follow 3S Artspace policies and posted instructions during their visit. All attendees should evaluate their risk in determining whether to visit 3S. By entering the building, attendees voluntarily assume all risks related to exposure to COVID-19 and confirm they will adhere to both local and CDC quarantine requirements.
COVID-19 Warning
There is risk of exposure to COVID-19 in public spaces and there is no guarantee those attending an event will not be exposed to COVID-19.
Port Lucy is generously supported by: Planned Parenthood of Northern New England.