Long Story Short: Truth or Consequences
3S Artspace, Portsmouth, NH, 03801
Wednesday, Jun, 8th, 2022
7:00 - 9:00 PM
https://www.eventbrite.com/e/long-story-short-truth-or-consequences-tickets-305677849677
Event description
Now on sale!

Long Story Short: Truth or Consequences
Wednesday, June 8
Doors: 6pm / Event: 7pm
All ages / Seated
Pay-what-you-choose (starting at $10)
Location: 3S Artspace
—-
June Long Story Short theme: Truth or Consequences
Sometimes honesty is the best policy, and other times, it's a total disaster. This show features stories about subjective truths, things we wish we didn't know, and times a lie causes more trouble than it's worth. Whether we're being honest with others or ourselves, telling the truth is not always easy.
Featured storytellers:
Michael Cinquino (photographer, filmmaker), Daniel Moran (poet, essayist), Paul Doncaster (author, storyteller), Kevin Baringer (web developer, game designer, writer/artist/videographer), Rebecca Gomez (professional in philanthropy and early childhood education policy), Samantha Granville (UNH Creative Writing MFA Candidate).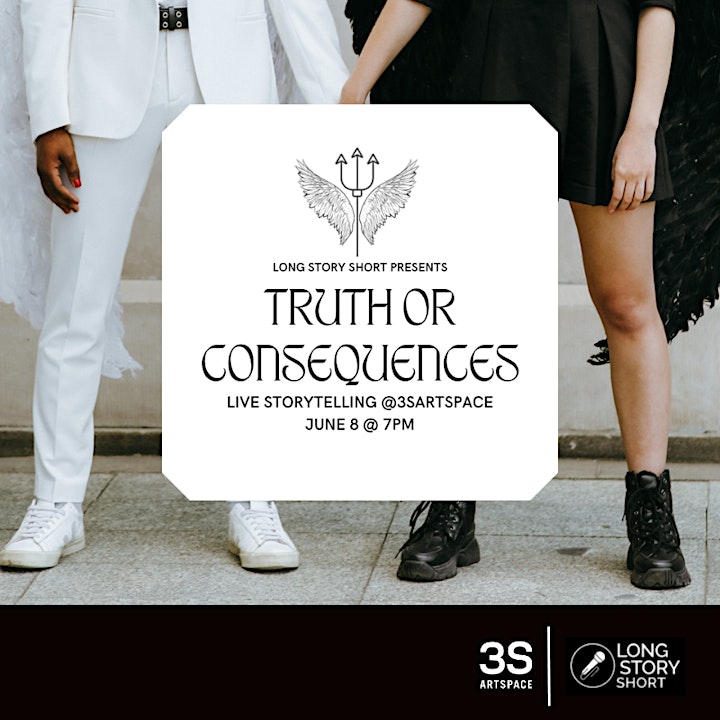 —-
Click here to learn about our Health & Safety policies and measures.
Masks are strongly encouraged but not required during your visit to 3S Artspace.
By purchasing a ticket and/or visiting 3S, you are agreeing to follow 3S Artspace's health & safety requirements as they are on the date of your visit (not at the time of purchase). There may be exceptions or changes to our requirements for upcoming events, based on factors such as artist requirements and public health mandates.
Attendee Promise & Health Acknowledgement
All attendees agree to follow 3S Artspace policies and posted instructions during their visit. All attendees should evaluate their risk in determining whether to visit 3S. By entering the building, attendees voluntarily assume all risks related to exposure to COVID-19 and confirm they will adhere to both local and CDC quarantine requirements.
COVID-19 Warning
There is risk of exposure to COVID-19 in public spaces and there is no guarantee those attending an event will not be exposed to COVID-19.
—-
About Long Story Short:
Long Story Short is not just a storytelling event. It's an opportunity to share the funniest moments life brings us, the deepest human emotions, and the strangest day of your life with complete strangers. This bare-bones storytelling series, hosted by Beth LaMontagne Hall, is free of pretense and over-rehearsed monologues. The show throws a mix of professional writers, performers, and average folks who have no public speaking experience whatsoever on stage with just a mic and a spotlight to tell a personal story based on that show's theme. What makes Long Story Short unique is the off-the-cuff feel many of the stories have, including each show's one open mic slot. A brave volunteer from the audience is selected at random and must take the stage in a moment's notice to open the second half, — not even the host knows what's going to happen.
Follow Long Story Short on Facebook: facebook.com/LSSat3S
Check out the LSS podcast: www.longstoryshortpod.com
—-

Long Story Short will be formatted for special radio programs on New Hampshire Public Radio in 2022! A broadcast version of the all Long Story Short events will air as part of the "NHPR Presents" series, which aims to work with arts and culture nonprofit organizations across the state to bring similar community events to the air. The air dates for "Truth or Consequences" are Friday, June 24 at 9pm and Saturday, June 25 at 4pm.
—-